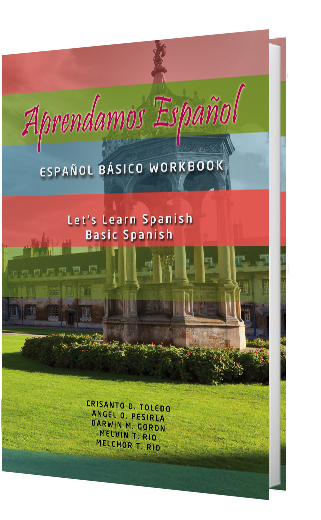 Aprendamos Español (Toledo)
Authors: Crisanto D. Toledo, Angelo O. Pesirla, Darwin M. Goron, Melvin T. Rio, Melchor T. Rio
iAprendimos Español! Will help the student how to speak, understand, read and write in Spanish. The contents of this workbook have been selected for the beginners who want to learn the Spanish language interactively in an easy and quick way.
    You'll learn Spanish the way you learned any language, starting with simple words and progressing to complex phrases. To help you immerse yourself in the language, you'll practice the conversations in Spanish with your classmates or friends who are studying the language.
    Practice your Spanish as much as possible inside and outside the classroom. Even if you can't go abroad, watching Spanish movies, reading Spanish magazines, listening to Spanish songs, and talking with Spanish-speaking friends are enjoyable ways to help you develop what you have learned from iAprendamos Español! And from your Spanish class.
    iAprendamos Español! Provides English translations. There are thirty one basic topics in this workbook, laying the foundation for learning how to make simple sentences and converse with the Spanish speakers. In every topic, there are simple exercises and activities to test your capacity of assimilating the lessons.