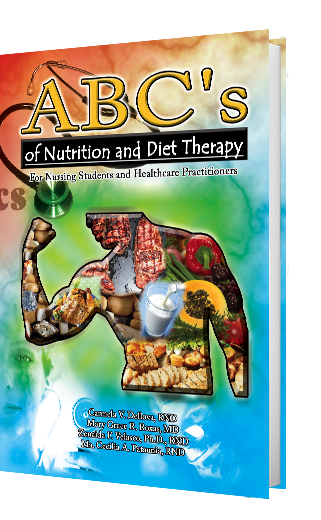 ABC's of Nutrition and Diet Therapy (For Nursing Students and Healthcare Practitioners)
Authors: Carmela V. Dellova, RND,  Mary Grace R. Roxas, MD,  Zenaida F. Velasco, Ph.D., RND,  Ma. Cecilia A. Pataunia, RND 
The book has been written to provide basic, yet updated knowledge necessary for those studying and/or working at different levels of health care either as a medical practitioner, nurse, nutritionist-dietitian, community worker, social worker, caregiver, and housewife.
The pendulum is swinging towards a more proactive approach to health and wellness. However, there is a tremendous confusion in the arena of nutrition and preventive medicine. We have to draw from as many sources as possible in updating this textbook — from local and international journals and recently published articles.
The authors have taken into account recent developments in nutrition and dietetics and mast importantly, the recommendations of the users of the book as well as the industry at large. In particular, the revisions included activities and exercises to encourage your personal involvement and commitment to better health.
This book is organized into three ports that reflect the major topics typically covered in an introduction to the study of nutrition:
Part One: Nutrition Basics
Part Two: Nutritional Assessment and Dietary Calculations
Part Three: Therapeutic Nutrition
ABC's of Nutrition and Diet Therapy is one of the most usable, concise, clearly written and unambiguous sources of information about the science and practice of nutrition. It is an indispensable companion for Filipinos migrating to the different parts of the globe next TO the cookbook
The assistance of Prof. Flordelis R. Roxas, faculty of the PUP College of Language and Linguistics, in the editing of chapter objectives and exercises is gratefully acknowledged.