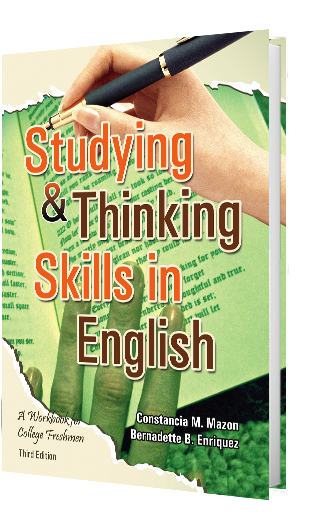 Studying and Thinking Skills in English
Authors: Constacia M. Mazon,  Bernadette B. Enriquez
YOUR STUDYING AND THINKING task here is meant to enhance your communication skills in English for you to cope effectively with your academic requirements. The lessons and activities are designed to make you achieve the desired enhancement These are composed and developed into nine chapters.
The first chapter is about paving the way to an enhanced studying and thinking skills in English — focusing on getting an overview of the course through the syllabus, using the library, taking down notes, and honing critical and creative thinking.
The second chapter is about enhancing studying and thinking skills to cope with the demands of an examination before, during, and after taking it. ft focuses specifically or coping with the given instructions and on answering the questions asked in A.
The third chapter is about identifying and stating a fact and an opinion and on identifying and drawing out an inference.
The fourth chapter is all about enhancing studying and thinking skills towards effective reading in English.
The fifth chapter i ail about enhancing studying and thinking skills in English towards reading with comprehension essays, short stories, drama, and poems.
The sixth chapter is about enhancing studying and thinking skills towards effective writing and speaking in English.
The seventh chapter is about enhancing studying and thinking skills towards unity, coherence, and emphasis in developing and organizing ideas.
The eighth chapter is ail about enhancing studying and thinking skills in English towards effective development and organization of ideas in speaking and writing.
And the ninth chapter is about enhancing studying and thinking skills in English towards writing a good paragraph, essay, summary, and paraphrase.
Each lesson gives the nature of the studying and thinking work to be done and some techniques that can be used for the task to be done more efficiently.
Overall, this program of lessons is your writer's well-meant response to the syllabus suggested for use in tertiary English One by the Commission on Higher Education (CHED).
Related Products
Biological Science (Cajuday)

Authors: Lilibeth A. Cajuday, Anne R. Dioneda, Carlo F. Galias, Jonathan Jaime G. Guerrero, Charmaine A. Malonzo, Phil V. Morano, Joan R. Nace, Jocelyn E. Serrano

Teaching a pure science to non-science majors is a hard task. Teachers are faced with the challenging problem of explaining the complex structures of cells or the intricate chemical pathways in a simple and, in a sense, artful way. Vis-a-vis this simplicity is not losing the basic concepts. Striking a balance takes up a lot of creativity, of board and seat works, and other methodologies to bring home the message to students.

Finally, this book creates another stepping stone in understanding the science of life. Unlike other textbooks, this Biological Science reference material takes into consideration the actual semestral time frame. It is equipped not just to teach directly but also to encourage self-exploration and culture of research. Besides, a university is a university because it is a generator of knowledge through a prolific research culture among students.

Given this, it is the hope of the authors that this book serves its purpose. The study of biology is an interesting field regardless of background or skills and competencies. It is perhaps the most practical among the many branches of science. It does not talk about things too farfetched or blurred. It talks about our very self. We, you are the best manifestation of life. Thus, this book is about you, a narration of our physicalities and an explanation of our biological being.

Biological Science (Caballes)

Authors: Dennis G. Caballes, Jennifer S. Florida

The concept approach of the book is suitable for undergraduate non-Biology major students. The book is designed to be useful workbook for students enrolled in Biology subject. It is divided into eight units which cover major topics such as cell biology, genetics, evolution, ecology, biological diversity and plant and animal biology. Each part has balanced coverage of all topics sufficient for a semester-long course in Biology. The authors considered these topics as important pans of biology which will provide the core knowledge in science.

The opening unit of the book gives an overview of how the field of Biology is studied and explored using scientific method. Unit II deals with biological molecules that account for the structure, function and even the origin of cells. The next unit provides discussion on energy and metabolism which is the central phenomena in the study of biological organisms. It is followed by the study of heredity and the evolutionary process in the heritable characteristics (Unit IV). Basic ecology concepts are introduced in Unit V while biodiversity is main focus of discussion of Unit VI. The last unit deals with plant and animal biology. Each chapter included in every unit is provided with self-assessment part which includes quick recall questions and questions that elicit critical thinking. Moreover, helpful materials that would reinforce learning are appended towards the end in an effort to provide additional information among the users of this book. Furthermore, laboratory exercises are incorporated for each chapter in order to supplement the concepts learned in the lecture and to make them responsible in their own learning through manipulation and discovery.

The authors of this book have been friends and colleagues for several years and, while they have often discussed writing a book together, the timing never seemed quite right. Finally, they put their heads together to come up with a "generic" book suitable for non-science students with different major and coming from various institutions. The authors' collection of lecture notes from several years of teaching Biology is the basis of the content of this book. Any comments or suggestions for the improvement of this book will be appreciated.

Rizal

Authors: Jensen DG. Mañebog, Pedrito B. Placio, Rodrigo DP. Tomas, Rafael Y. Paragas, Nirvana SG. Bides

Editor: Jensen DG. Mañebog

HISTORY IS COMMONLY DEFINED as a story about the past that is significant and true. Admittedly Jose Rizal is an item of the 'past'. Arguably nonetheless, the known information about his life, works, and writings—which can be proved `true' based on preserved 'relics' and artifacts—are significant even to present generation.

History subjects like Rizal can be meaningful and practicable though it largely depends on the teacher presenting the subject and the instructional materials used. Pertinently one of the humble aims of this book is to introduce the course in such a way that the teacher and students alike would find it interesting and meaningful.

This book possesses the following distinctive features:

1. Includes new researches

In light of recent findings, this book, for instance, discusses what happened to Josephine Bracken, Paciano, Dona Teodora, Rizal's other siblings, and other relevant Filipino heroes after Rizal's martyrdom.

Clarifies some controversies and discrepancies

Many sections deal with historical controversies like whether or not Rizal indeed graduated as 'valedictorian' in Ateneo (as some references claim) and whether or not he did write the poem `Sa Aking Mga Kabata'.

Advocates c-learning and blended learning

It contains interesting 'interactive online activities' and suggests supplemental online readings. Connectedly, the hook is compatible with online education program.

With analyses, comments, and applications

Whenever appropriate and needed, significant remarks and relevant supplemental information are embedded in the lectures. Some lectures also state the relevance, value, and applicability of the topics to our lives.

Uses blog and feature-article format

To be appealing to young generations, some lectures somewhat deviate from the traditional too formal (like straight news) style. Instead, they are written the way blogs and online articles are.

Features other Filipino heroes

As many schools are now including other Filipino heroes in the syllabus for the Rizal subject, this book pertinently features many of them (e.g. Del Pilar, Bonifacio, and Aguinaldo as it identifies Rizal's relations and collaborations with them.