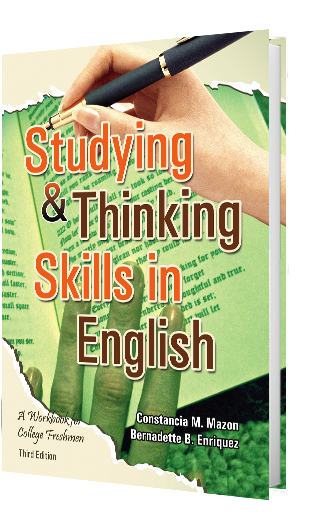 Studying and Thinking Skills in English
Authors: Constacia M. Mazon,  Bernadette B. Enriquez
YOUR STUDYING AND THINKING task here is meant to enhance your communication skills in English for you to cope effectively with your academic requirements. The lessons and activities are designed to make you achieve the desired enhancement These are composed and developed into nine chapters.
The first chapter is about paving the way to an enhanced studying and thinking skills in English — focusing on getting an overview of the course through the syllabus, using the library, taking down notes, and honing critical and creative thinking.
The second chapter is about enhancing studying and thinking skills to cope with the demands of an examination before, during, and after taking it. ft focuses specifically or coping with the given instructions and on answering the questions asked in A.
The third chapter is about identifying and stating a fact and an opinion and on identifying and drawing out an inference.
The fourth chapter is all about enhancing studying and thinking skills towards effective reading in English.
The fifth chapter i ail about enhancing studying and thinking skills in English towards reading with comprehension essays, short stories, drama, and poems.
The sixth chapter is about enhancing studying and thinking skills towards effective writing and speaking in English.
The seventh chapter is about enhancing studying and thinking skills towards unity, coherence, and emphasis in developing and organizing ideas.
The eighth chapter is ail about enhancing studying and thinking skills in English towards effective development and organization of ideas in speaking and writing.
And the ninth chapter is about enhancing studying and thinking skills in English towards writing a good paragraph, essay, summary, and paraphrase.
Each lesson gives the nature of the studying and thinking work to be done and some techniques that can be used for the task to be done more efficiently.
Overall, this program of lessons is your writer's well-meant response to the syllabus suggested for use in tertiary English One by the Commission on Higher Education (CHED).
Related Products
Values Education

Authors: Ma. Kathleen C. Tiglao, Ph.D.,   Georadelia T. Lungay, RGC,  Piere John H. Caliao, MA. Ed.,  Philip Albert Y. Lagahid, MA

School is one of the agents from where the personality of human individual would form, it might not be the sole influence but it contributes a lot to the life of an individual since, the basic education system of our country requires the individual to stay in school more than 8 hours a day, 5 times a week_ Through this, one might showcase his/her identity from where he/she is coming and what culture does it bring. Thus, everyone should have the same culture and values as Filipino people who are living in the same country.

This work/textbook is one of the tools that will help educators, parents and leaders in instilling values to young individuals, most especially the students. Though the parents are the first teacher of values to their children, we can hardly deny the fact that every parent have their own ways and practices of their values.

The content of this work/textbook focuses on the human seven core values namely: Truth, Spirituality, Love, Economic Efficiency, Health. Patriotism and Nationalism, and Social Responsibility. From these core values, good Filipino values were formed and developed which means these are the sources of all Filipino values that we have. By knowing these values, we are able to really understand why we have such practices that other countries do not have and why there is belief that other countries do not have. Aside from knowing these values, we will also be informed that we have to, as well, become cognizant of their negative effects on individuals and on others.

The following chapters will give a short and concise practical explanation on the seven (7) core values that Filipino people have. Each chapter contains pre-activity, post-activity and post evaluation as well. The pre-activity will check the students' existing knowledge, practices and beliefs that they have on a specific value. The post activity after every discussion will check the learning experience of the students. While the post-evaluation makes the students reflect on how they are going to apply it to themselves, affect other people and improve the community in their own way.

National Service Training Program (with Common and Specific Modules)

Authors: Rogelio I. Espiritu,  Maria Rosario E. Monce,  Madeleine M. Co,  Jayme C. Ignacio,  Katherine C. Guevarra

With the aim of giving quality teaching and learning experience to teachers, students as well as other community developers, social workers and others doing extension and community services, this worktext is conceptualized and realized.

This hook is divided into two (2) parts:
Common Module — Enhancing Awareness to Social Issues and Problems; and
Specific Module — Developing Oneself Thru Community Involvement
At the end of each chapter are worksheets, which will be answered by the students. These will serve as a form of evaluation on the extent of learning they have gained from each chapter.

This hook hopes to fulfill the objectives of the National Service Training Program (NSTP); i.e., to bring back the awareness of students as well as mentors of various traits and values, namely: civic responsibility, patriotism, leadership, assertiveness, concern for people and environment and lastly, to be an active mobilizer of the community working together to solve problems and issues confronting them.

National Service Training Program (A Modular Worktext for NSTP 1)

Authors: Florida C. Labuguen,  Jennifer L. Amaranto

The need for preparing the youth for their duties as citizens via the National Service Training Program (NSTP) cannot be overemphasized.
As embodied in RepublicAct No. 9163, the NSTP Law of 2011 has ushered a new direction in training the Filipino youth for the duties and responsibilities of citizenship. This citizenship program purports to prepare the youth for their primordial tasks as nation-builders and citizen-soldiers in response to the clarion call of the times.

As an educational program and a curricular requirement, it is aimed at transforming the youth into productive assets for local and national development. Based on the findings from history that there are much to be expected from the intrinsic and potential value of the young Filipino, the Program is designed to develop knowledge, skills and values in order for them to become good citizens.
To attain the objectives of NSTP, this modular work-text attempts to present a comprehensive overview of the Program.

The whole gamut of insights and activities relative to NSTP contained in this work-text satisfies the need for instructional material that meets the prescribed guidelines for the implementation of RA 9163.

The student-trainees will find this modular work-text useful, relevant and responsive to the contemporary situation. The zealous and vibrant response of our youth to the realization of the ends of this Program will constitute a covenant in building sustainable communities in the country for national development.

It is with fervent hopes that the school officials and authorities mandated by law to operationalize this vital aspect of youth empowerment through citizenship education will optimally use this resource material in the delivery of subjects covered
on the first leg of part of NSTP, especially along the subjects of the 25-hour common module phase in pursuit of that ultimate end of moulding the young people into civic and defense-prepared individuals for nation building.

For comments and suggestions, please contact the Philippine Society of NSTP Educators and Implementers, Incorporated, through e-mail address: PSNEI_INC@ yahoo.com.ph.
An endeavor of this magnitude entails an enormous debt of gratitude.