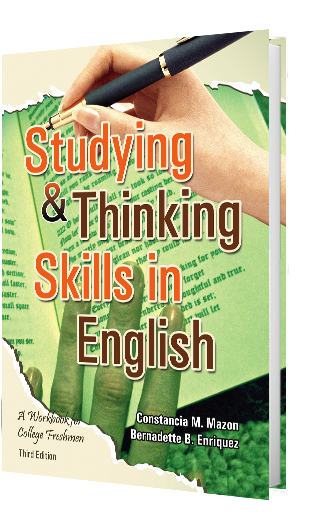 Studying and Thinking Skills in English
Authors: Constacia M. Mazon,  Bernadette B. Enriquez
YOUR STUDYING AND THINKING task here is meant to enhance your communication skills in English for you to cope effectively with your academic requirements. The lessons and activities are designed to make you achieve the desired enhancement These are composed and developed into nine chapters.
The first chapter is about paving the way to an enhanced studying and thinking skills in English — focusing on getting an overview of the course through the syllabus, using the library, taking down notes, and honing critical and creative thinking.
The second chapter is about enhancing studying and thinking skills to cope with the demands of an examination before, during, and after taking it. ft focuses specifically or coping with the given instructions and on answering the questions asked in A.
The third chapter is about identifying and stating a fact and an opinion and on identifying and drawing out an inference.
The fourth chapter is all about enhancing studying and thinking skills towards effective reading in English.
The fifth chapter i ail about enhancing studying and thinking skills in English towards reading with comprehension essays, short stories, drama, and poems.
The sixth chapter is about enhancing studying and thinking skills towards effective writing and speaking in English.
The seventh chapter is about enhancing studying and thinking skills towards unity, coherence, and emphasis in developing and organizing ideas.
The eighth chapter is ail about enhancing studying and thinking skills in English towards effective development and organization of ideas in speaking and writing.
And the ninth chapter is about enhancing studying and thinking skills in English towards writing a good paragraph, essay, summary, and paraphrase.
Each lesson gives the nature of the studying and thinking work to be done and some techniques that can be used for the task to be done more efficiently.
Overall, this program of lessons is your writer's well-meant response to the syllabus suggested for use in tertiary English One by the Commission on Higher Education (CHED).
Related Products
Practicum Manual

Authors: Celia E. Cariño,  Winifredo F. Garcia,  Dominador D. De Asis, Jr,  Stilo Floyd Schneider

This manual is intended to serve as practical guide to students who will take their practicum for hotel and restaurant. The manual serves the following purposes:

To introduce students and practicum coordinator to the Hotel and Restaurant Practicum Program;
To serve as a resource for students in planning the practicum experience in the Hospitality Industry;
To articulate the policies and procedures of the Hotel and Restaurant Practicum Program for students and practicum coordinator; and
To describe requirements of the Hotel and Restaurant Practicum Program.

Additionally, this manual is meant to be used in conjunction with the over-all policies and guidelines of different hotels and restaurants in regard to their Practicum Program including requirements, important student policies, and academic policies of the school. There are many procedures, sequences of courses, deadlines, and academic requirements that students need to know so they may proceed smoothly through their practicum. Each student has an assigned advisor with whom she/he is expected to keep on-going consultation. The student is the one primarily responsible for knowing the information in this manual and keeping apprised of deadlines and on­going requirements and responsibilities.

The Hotel and Restaurant Practicum experience is a major testing ground for the student's knowledge, skills, and values. The student is supported in this experience by the leadership of her/his practicum coordinator. The goals and activities presented are intended to provide helpful guidance and structure to aid in a successful practicum experience for the student and to the participating hospitality industry partners.

Students' excellence in learning is improved through techniques, strategies, and innovation which are provided different types of practice of these skills in their course. Students also learn how technology has become part of the hospitality industry and the skills related to the use of technology in the different departments of the hotel and restaurant. The development of learning becomes a dynamic process based on theories, researches, best practices, and professional standards for HOSPITALITY INDUSTRY.

ABC's of Nutrition and Diet Therapy (For Nursing Students and Healthcare Practitioners)

Authors: Carmela V. Dellova, RND,  Mary Grace R. Roxas, MD,  Zenaida F. Velasco, Ph.D., RND,  Ma. Cecilia A. Pataunia, RND 

The book has been written to provide basic, yet updated knowledge necessary for those studying and/or working at different levels of health care either as a medical practitioner, nurse, nutritionist-dietitian, community worker, social worker, caregiver, and housewife.

The pendulum is swinging towards a more proactive approach to health and wellness. However, there is a tremendous confusion in the arena of nutrition and preventive medicine. We have to draw from as many sources as possible in updating this textbook — from local and international journals and recently published articles.

The authors have taken into account recent developments in nutrition and dietetics and mast importantly, the recommendations of the users of the book as well as the industry at large. In particular, the revisions included activities and exercises to encourage your personal involvement and commitment to better health.

This book is organized into three ports that reflect the major topics typically covered in an introduction to the study of nutrition:

Part One: Nutrition Basics
Part Two: Nutritional Assessment and Dietary Calculations
Part Three: Therapeutic Nutrition

ABC's of Nutrition and Diet Therapy is one of the most usable, concise, clearly written and unambiguous sources of information about the science and practice of nutrition. It is an indispensable companion for Filipinos migrating to the different parts of the globe next TO the cookbook

The assistance of Prof. Flordelis R. Roxas, faculty of the PUP College of Language and Linguistics, in the editing of chapter objectives and exercises is gratefully acknowledged.

Philippine Government and Constitution

Authors: Atty. Sherwin Prose C. Castañeda,  Dr. Rolando A. Bernales,  Prof. Juan Jaime D. Nolasco,  Prof. Mark Roy L. Boado,  Prof. Tristan A. Reyes
with
Prof. Emily B. Baluyot,  Dr. Romero E. Javier,  Prof. Bernalyn F. Pa-at,  Prof. Nestor C. Vallestero,  Dr. Joy C. Villahermosa

This book is primarily intended for the undergraduate study in government and the 1987 Constitution. This, however, may very well serve as a handy reference not only to college students but also to every person interested in acquiring knowledge of the basic framework of our government.

This book grew out from the lectures and notes made by the authors while teaching the course and/or while studying Law. Said lectures and notes were later on consolidated into a book in the attempt to present to the readers a simplified but complete text in the study of Philippine Government and the 1987 Constitution.

Varied activities were suggested alter each discussion to reinforce learning. These activities may also be employed as the professor's alternative assessment tools. It is hoped that these activities wilt make the study of this course more meaningful and interesting for the students.

Tests were likewise provided after each chapter. The tests herein provided may be employed by the professor either as models for test construction, assignments For the students or evaluation instrument of how much the students mastered the objectives enumerated before each discussion. Should the professor decides to make use of the tests as tools for evaluating students' mastery, the authors suggest that the professor be not limited by the items provided as these tests are open for revisions depending on the emphasis made during the class discussions or on other factors that may warrant such professor's discretion.

The authors extend their heartfelt thanks to their respective family, relatives, colleagues,, and friends for their unending support, love,, and inspiration.. The authors also like to extend their deepest gratitude to all persons who contributed to the realization of this work; and most of all to Almighty God for the gift of knowledge and for all His blessings.

This humble work is dedicated to all those who share the authors' dream of great things for our beloved Country.
Mabuhay ang sambayanang Pilipino!