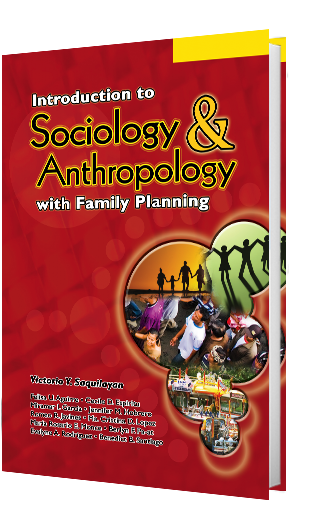 Sociology and Anthropology with Family Planning 2011 (Saquilayan)
Authors: Felisa U. Aguirre, Cecile D. Espiritu, Miramar I. Garcia, Jennifer M. Hobrero, Romeo R. Javines, Ma, Cristina D. Lopez, Maria Rosario E. Monce, Berlyn F. Pa-at, Evalyne A. Rodriquez, Benedict B. Santiago
Sociology and Anthropology are exciting as well as challenging fields of scientific study. It is exciting because it is dynamic and challenging because it opens up a lot of avenues for a continuing knowledge and understanding about the world, people and events. It is about people who are engaged in daily and non-stop activity.
As part of this life activity, this compendium is designed to sere as an introductory material on Sociology and Anthropology. Both scientific fields. although comparatively young in the academic world have been regarded not only as beneficial but moreso, very essential in the preparatory stage of one's understanding about life and the surrounding environment.
The immensity of the subject on both fields of study is given. May this compendium aid the students through their teachers as they engage themselves in this study.