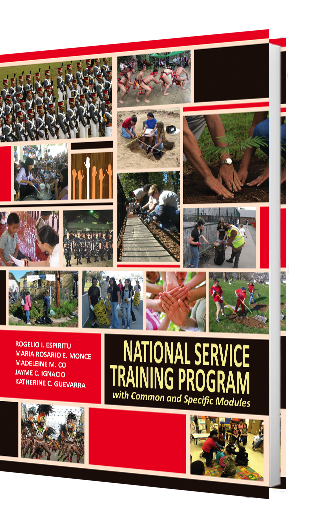 National Service Training Program (with Common and Specific Modules)
Authors: Rogelio I. Espiritu,  Maria Rosario E. Monce,  Madeleine M. Co,  Jayme C. Ignacio,  Katherine C. Guevarra
With the aim of giving quality teaching and learning experience to teachers, students as well as other community developers, social workers and others doing extension and community services, this worktext is conceptualized and realized.
This hook is divided into two (2) parts:
Common Module — Enhancing Awareness to Social Issues and Problems; and
Specific Module — Developing Oneself Thru Community Involvement
At the end of each chapter are worksheets, which will be answered by the students. These will serve as a form of evaluation on the extent of learning they have gained from each chapter.
This hook hopes to fulfill the objectives of the National Service Training Program (NSTP); i.e., to bring back the awareness of students as well as mentors of various traits and values, namely: civic responsibility, patriotism, leadership, assertiveness, concern for people and environment and lastly, to be an active mobilizer of the community working together to solve problems and issues confronting them.