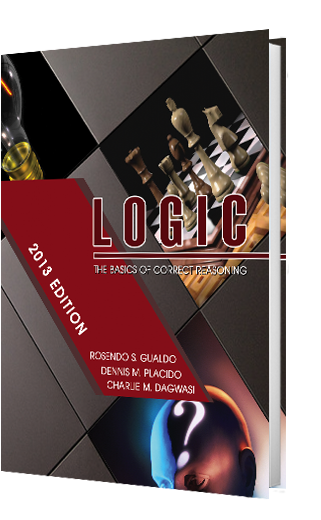 Logic The Basics of Correct Reasoning 2013 Edition
Authors: Rosendo S. Gualdo,  Dennis M. Placido,  Charlie M. Dagwasi
The human person is a rational being whose progress and survival depends to a large extent on his/her reasoning powers. It is imperative therefore that he/she hones this to the utmost extent in order to survive and prosper. His/her life, private or public, professional or personal, individual or social depends on his/her reasoning ability. Thus, there is a need for logic in his/her life both for personal and national development.
This Logic book discusses classical and modern logic to develop critical thinking among the students. It introduces students to the foundational concepts and theories of logic as applied to argumentation and debate and its significance to philosophical endeavor. It provides insights and understanding of the classical and symbolic logic.
Students are expected to engage in reflective and critical practice of making correct and valid reasoning which can serve as a good foundation to argumentation and debate and towards understanding human life. Finally, students are to think critically and form judgment on recurrent phenomena towards national development, appreciate making correct inferences from statements or premises conducive for holistic development; acquire correct thinking as manifested in his daily life activities; to modify clear ideas and express these in correct and proper terms for better community relations; to verify deceptive and erroneous reasoning for peace and unity; and to confidently engage in honest and respectable exchange of ideas; whether in formal setting (e.g. debate) or in ordinary day-to-day discourses by guiding him/her in making valid inferences and in establishing the truth of his/her conclusions and claims by way of correct reasoning.