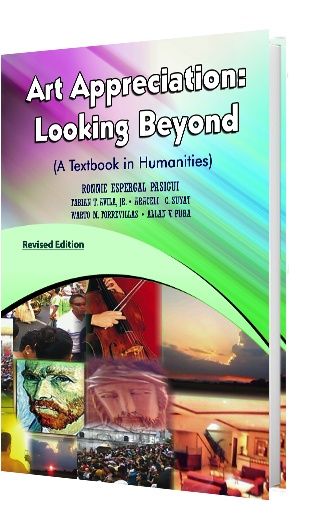 Art Appreciation: Looking Beyond
Authors: Ronnie Espergal Pasigui, Fabian T. Avila, Jr., Araceli C. Suyat, Warto M. Torrevillas, and Allan V. Pura
"Come to the edge," he said.
They said, "we are afraid."
Come to the edge," he said.
They came. He pushed them, and they flew.
(Apollinaire)
As we stand at the edge of these challenging years, gazing out into its uncharted expanse, some of us feel as if we are stepping out onto a launching pad; others feel at the brink of an abyss. Some see the challenges and the marvels to come and are exhilarated; some see only the certainty of change and its uncertain outcomes and are apprehensive. How amazing it is to note that many instructional materials, textbooks, in particular remained as they were.
This book is a response to the challenge of writing a newer book in the humanities course. It includes features to aid the students in the understanding of the subject.
A. Each chapter has the following features to help both the instructor and the student.1
An overview of the chapter
Learning objectives
Key words for understanding
Aids for study
Exercises
B. Chapters on the different art forms include the following features:
Historical development of the art form
Emphasis on Philippine art
Discussion of Art and Society
Inclusion of websites
C. Optional chapters for alternative approach in teaching humanities are included:
Functions Of Art (Chapter 3)
Art Theories (Chapter4)
Photography (Chapter 16)
Discipline-based Art Education (Chapter 17)
D. Instead of including an introductory discussion on literature as an Art, the authors focused on specific literary form— Drama. This is not to underestimate the other literary forms suck as poetry, novels, short stories, etc. Drama 15 a literary form almost within man's existence.
E. Powerpoint Presentation of selected topics are available for teachers as supplementary materials upon request.
These features, hopefully give this book an edge!