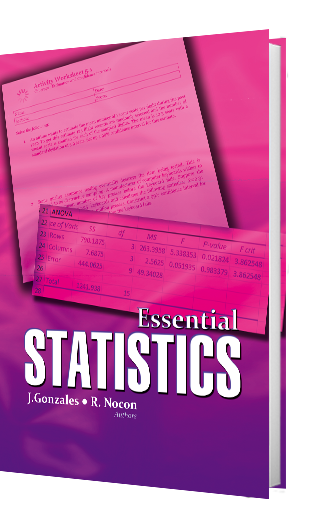 Essential Statistics
Authors: J. Gonzales,  R. Nocon
There are so many books about statistics out there written both by local and foreign authors. So why come up with yet another one? This book makes use of the same format adopted for an earlier, similar book in Algebra found useful by many students and teachers. It utilizes step-by-step procedures, includes lots of exercises, and worksheets, offers opportunities for student reflection and real-world connections, highlights the use of technology-based tools, requires student projects, presents chapter highlights, and provides students preparatory materials for major examinations.. It also has materials on integrating student portfolios and learning papers into the course.
These features emphasize the authors' belief and conviction that mathematics should be relevant meaningful, and interesting for today's generation of students. In particular, it is hoped that this book will assist students become wise consumer of and more adopt writers of research.
Related Products
Reading and Research take Center Stage

Authors: Bethel Ann C. Batallones,  Ma. Hazel B. Forastero,  Nerissa C. Cabello,  Arlene E. Lumantao,  Rommel Maglaya,  Glory Dee D. Magno,  Emilou Lindsay M. Mendoza,  Noel Christian A. Moratilla

Authors/Coordinator: Irish C. Sioson

As a sequel to "Spotlight: Study, Thinking and Writing Skills", this book aims to further hone students' reading and writing skills situated in the research context. Reading and Research Take Center Stage is designed to reinforce and strengthen critical thinking and research skills of budding researchers as they face the various research-based tasks the academic and professional world demand. This book, which is a product of careful research, further aims to instil the values of scientific inquiry, sense of responsibility and discipline research entails. Emphasizing on the importance of research, the modules contained in this book guide the students to walk through the process of research and help them to recover, discover, rediscover, refine, define, or refine personal, social, economic, gender, environment and professional issues as reflected in the research articles coming from different disciplines.

This purposive part includes specific primary and secondary skills which are clearly and concisely articulated to help set goals for the readers.

This exciting starter warms up, encourages and stimulates readers' curiosity a varied and enjoyable activities are included to introduce the topics and prepare ther for the lesson.

This priceless part serves as a bridge to the Audition and the actual reading selection by linking the preparatory activities and the subject being investigated by the research article through previewing the text.

This extraordinary element prepares the reader for a closer reading of the text as students are engaged in a dialogue with the text/ author through annotation and effective note taking.

This special section provides explicit input for the focus reading skill, emphasizing specific strategies to demonstrate and develop the necessary skill for thinking, reading, and research.

Rehearsal

This practical part encourages collaboration between and among students as they are guided by their instructor in practicing or rehearsing the skills to prepare them for independent work eventually.

Performance

This super section provides challenging and engaging opportunities for individual and collaborative application of reading and research skills presented.

Encore

This section promotes careful and thoughtful reflection among readers to ponder on their strengths, progress and areas for improvement. This helps them become more self-directed and metacognitive learners.

Various performance-based rubrics are also provided to ensure effective assessment of students' processes and outputs to aid students monitor their own learning and guide educators supplement and design instruction.

Basic Drawing 2

Author: Erich D. Cruz

This workbook is an edition specially prepared to completely encompass the syllabus in Drawing 2 of the First Year – Bachelor of Technology, Engineering and other related courses with various specializations.

This course provides the students with rudiments of working drawing. This enables the students to apply fundamental principles learned in introductory drawing.

The subject covered two parts: 1) First, it deals with the review of Orthographic and Pictorial Drawings. At this stage, while grasping the fundamentals of multi-view projections and pictorial drawings, more stress should be laid on accuracy, precision and neatness. Speed, which is also an essential requirement, can be achieved with constant practice. 2) Second, it deals mainly with the principles of dimensioning, scaling, sectioning, auxiliary views and pattern & surface development and their applications to simple machine parts for the purpose of their vivid description.

This is completely prepared so as to conform to the current practices of length measurement and projection system.

Practice exercises have been added purposely for drawing interpretations.

The author strongly believed the students will benefit immensely with the proper use of this workbook.

Practical Approach to Information Communication Technology (ICT)

Authors: Erika S. Farshid Mehr,  Frederic D. Yulo

About Information Communication Technology (ICT)

Technology as we understand it today began its predominant presence in people's daily life more than 20 years ago. But the need to know it more closely and utilize it out of necessity did not exist until the birth of the new millennia. Today's success in education, business, administration, government, and military aspect is vitally dependent to technology. However, what makes technology so important is not technology itself or the common attributes that are given to it, such as convenience, reduced costs, ease of access and etc. but what gives notion and meaning to it—that is Information. Information since the dawn of history has been a vital source of man's survival and success. Today's success, however, does not only depend on much information one has but how fast he/ she can access, exploit, create and communicate it. This is where technology and information unit work to people's advantage and make it so important to learn how they work and how they move each day's activities to the next.

The Idea of Writing this book

The notion of creating this book developed about a year ago. The primary objective was to provide a simplified and inexpensive way of learning ICT for students and learners in the Philippines. As educators in higher education level we were able to observe students' limitations and lack of eagerness in purchasing prescribed textbooks mainly due to lack of funds. Therefore we came up with the idea of creating a concise, practical, and inexpensive book which would contain essential knowledge that everyone has to know about technology. With our family, friends, and colleagues encouragements we were motivated to set the plans into motion and began drafting the very first chapters. And after a year of debating and adding and removing chapters and sections we have finally come to offer the compilation of all things we found, wrote and found useful to the reader. This book has been made for anyone specially those who have little means to purchase gadgets or computers or learn IT closely.

The readers are encouraged to send their valuable feedbacks to fredericyulo@ yahoo.com or elika.fm@gmail.com. Suggestions for the improvement of the text are also welcome.