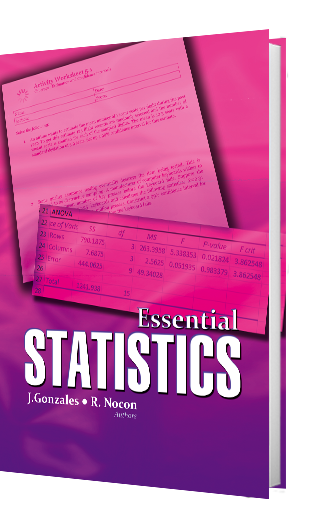 Essential Statistics
Authors: J. Gonzales,  R. Nocon
There are so many books about statistics out there written both by local and foreign authors. So why come up with yet another one? This book makes use of the same format adopted for an earlier, similar book in Algebra found useful by many students and teachers. It utilizes step-by-step procedures, includes lots of exercises, and worksheets, offers opportunities for student reflection and real-world connections, highlights the use of technology-based tools, requires student projects, presents chapter highlights, and provides students preparatory materials for major examinations.. It also has materials on integrating student portfolios and learning papers into the course.
These features emphasize the authors' belief and conviction that mathematics should be relevant meaningful, and interesting for today's generation of students. In particular, it is hoped that this book will assist students become wise consumer of and more adopt writers of research.
Related Products
Ethics in Health Care

Author: Richard A. Hernandez

To act without rapacity, to use knowledge with wisdom, to respect interdependence, to operate without hubris and greed are not simply imperatives, they are an accurate scientific description of the means of survival

— Barbara Ward

You've got to be brave and you've got to be boa Brave enough to take your chance on your own discrimination — what's right and what's wrong, what's good and what's bad.

— Robert frost

Nursing is an important field in healthcare as it is the process for caring for, or nurturing client in all health care setting. It also refers to the care carried out by any individual who has had formal edification and preparation in the art and science of nursing. To further provide satisfactory service to their patients, nurses also have to observe moral and ethical principles and practices, as ethics and morals may serve to provide dilemmas and conflicts in rendering sufficient service to patients. In addition, ethical principles and morals must be properly given importance and significance in the nursing practice to ensure that the well-being and health of the patients would be given priority, thus, upholding and promoting the moral aspect of the practice. Ethical nursing practice involves the performance of nurses' roles and responsibilities which is facilitated with integration of social justice towards the promotion of life. Nurses should endeavor as much as possible individually and as a group to advocate for and eliminate social inequities, injustice and discrimination.

Today, nursing students are expected to think critically, and to utilize moral and ethical principles in carrying out their responsibilities during their related learning experiences. This book was made possible in anticipation of meeting learning needs, albeit the approach is synthesis of conceptual and theoretical highlights. Moreover, the purpose of this hook is to assist students integrate concepts of holistic nursing with the application of appropriate ethical and moral principles to all types of patients anytime in any health care setting.

Organization of the Text

Chapter 1: Ethics and Nursing Care focuses on the discussion of morality of an act and the significance of ethics in the health care industry.

Chapter 2: Approaches in Ethics highlights the factors to be considered in making decisions which are moral.

Chapter 3: The Roles of Nurse Ethicist enumerates the responsibilities of nurses to their patients, physicians and among others who are connected in the promotion of the client's welfare.

Chapter 4: Bioethical Principles discusses certain principles of ethics to be considered in making decision in times of conflicting issues, especially those that question the morality of an act.

Chapter 5: Issues on Family Planning discusses the different methods of natural and artificial family planning. It also enumerates propositions for and against institution of family planning.

Chapter 6: Issues on Abortion provides a discussion of different types of abortion and how the community at large reacts on the morality of this act.

Chapter 7: Issues on Euthanasia describes the different forms of euthanasia and enumerates some of the religious objections.

Chapter 8: Issues on In Vitro Fertilization describes the in vitro fertilization and discusses the morality of this act.

Chapter 9: Issues on Stem-cell Research describes stem cell and enumerates propositions for and against researches on stem cells.

Chapter 10: Issues on Medical Tourism focuses on the description, process and history of medical tourism and enumerates some of its legal and moral implications.

Studying and Thinking Skills in English

Authors: Constacia M. Mazon,  Bernadette B. Enriquez

YOUR STUDYING AND THINKING task here is meant to enhance your communication skills in English for you to cope effectively with your academic requirements. The lessons and activities are designed to make you achieve the desired enhancement These are composed and developed into nine chapters.

The first chapter is about paving the way to an enhanced studying and thinking skills in English — focusing on getting an overview of the course through the syllabus, using the library, taking down notes, and honing critical and creative thinking.

The second chapter is about enhancing studying and thinking skills to cope with the demands of an examination before, during, and after taking it. ft focuses specifically or coping with the given instructions and on answering the questions asked in A.

The third chapter is about identifying and stating a fact and an opinion and on identifying and drawing out an inference.

The fourth chapter is all about enhancing studying and thinking skills towards effective reading in English.

The fifth chapter i ail about enhancing studying and thinking skills in English towards reading with comprehension essays, short stories, drama, and poems.

The sixth chapter is about enhancing studying and thinking skills towards effective writing and speaking in English.

The seventh chapter is about enhancing studying and thinking skills towards unity, coherence, and emphasis in developing and organizing ideas.

The eighth chapter is ail about enhancing studying and thinking skills in English towards effective development and organization of ideas in speaking and writing.

And the ninth chapter is about enhancing studying and thinking skills in English towards writing a good paragraph, essay, summary, and paraphrase.

Each lesson gives the nature of the studying and thinking work to be done and some techniques that can be used for the task to be done more efficiently.

Overall, this program of lessons is your writer's well-meant response to the syllabus suggested for use in tertiary English One by the Commission on Higher Education (CHED).

Logic The Basics of Correct Reasoning 2013 Edition

Authors: Rosendo S. Gualdo,  Dennis M. Placido,  Charlie M. Dagwasi

The human person is a rational being whose progress and survival depends to a large extent on his/her reasoning powers. It is imperative therefore that he/she hones this to the utmost extent in order to survive and prosper. His/her life, private or public, professional or personal, individual or social depends on his/her reasoning ability. Thus, there is a need for logic in his/her life both for personal and national development.

This Logic book discusses classical and modern logic to develop critical thinking among the students. It introduces students to the foundational concepts and theories of logic as applied to argumentation and debate and its significance to philosophical endeavor. It provides insights and understanding of the classical and symbolic logic.

Students are expected to engage in reflective and critical practice of making correct and valid reasoning which can serve as a good foundation to argumentation and debate and towards understanding human life. Finally, students are to think critically and form judgment on recurrent phenomena towards national development, appreciate making correct inferences from statements or premises conducive for holistic development; acquire correct thinking as manifested in his daily life activities; to modify clear ideas and express these in correct and proper terms for better community relations; to verify deceptive and erroneous reasoning for peace and unity; and to confidently engage in honest and respectable exchange of ideas; whether in formal setting (e.g. debate) or in ordinary day-to-day discourses by guiding him/her in making valid inferences and in establishing the truth of his/her conclusions and claims by way of correct reasoning.